This post contains affiliate links, meaning I receive a small commission if you make a purchase using the links.
I am back in school! And let me say, it is so much fun. Signing up for the Introductory Course at the Herbal Academy was the best decision I made, education wise. I recently completed the first lesson and not only was it fun, but quite factual. Here are some of my thoughts:
I am not nodding off in this lecture! You know you've been there (I certainly have) and I can say this course is in no way boring, repetitive, or monotone. The creators of this course not only know what they are doing, but they teach the content quite well. Everything is explained in a cross between scientific knowledge and layman's terms – making everything completely understandable and relatable. I do not feel like I am in over my head here!
Preview Lesson from the Introductory Herbal Course
Once I signed up for the course, I had immediate access to free downloads, such as pre-designed labels and infographics. This content is a complete bonus and provides me with the extras I may need for my herbal career. My first lesson was a Welcome from the Founder and Director of the Herbal Academy, Marlene Adelmann. She explained the course, how the curriculum is set up, ways to contact instructors, and how to use the online forum. We started to dive into the properties of herbs and how herbs work. The plant naturally makes the chemicals in each herb, with each herb converting them to a specific use when consumed by humans. Raw coffee beans, and caffeine, are an excellent example of this!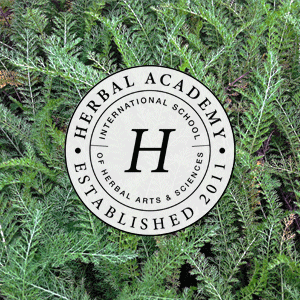 My favorite takeaway was this quote regarding herbs: "Our very humanness depends on them, and in return, they depend on us. To deny this is to deny our part in the great web of life. Their out-breath is our in-breath, our exhale, their inhale." – Stephen Harrod Buhner. One great feature is that this entire class is available online (now available in a print format) meaning I can learn and study on my terms and on my time. I love that I can check in on a lecture first thing in the morning or late at night, whatever works best for my schedule. And the best part is my classmates have no idea I am sitting around in my comfy sweats and sipping on an herbal tea, or cranberry juice, all while I am in class!
If you're interested in taking this course, I cannot recommend it highly enough. Learning about the magnificent wonders of Mother Nature and the bounty of herbs and flowers to be found around us makes me downright giddy. If you have any questions, feel free to reach out to me! The course is $297. To learn more about this course, click here.
Subscribe today to stay up to date on new products, blog posts and more!